24/7 Locksmith Services in Goldsboro, NC
Automotive
Lockouts, Rekeys, Remote Programming
Commercial
Lockouts, Rekeys, Key Duplicate, Upgrades
Residential
Lockouts, Rekeys, Duplicates, Upgrades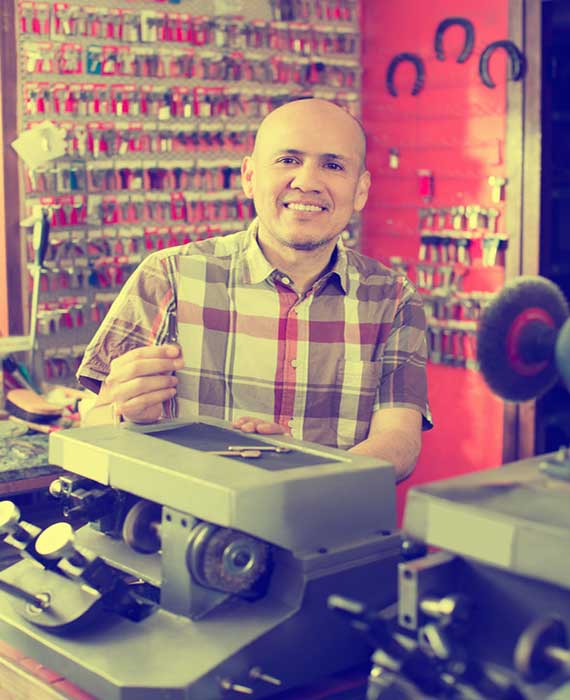 Always Happy To Help
Our Customers
Fast, Professional, and friendly locksmith services now serving Goldsboro, North Carolina
We offer
Car locksmithing services for lockouts, rekeys, and remote reprogramming for cars.
Business & Commercial locksmithing include lockouts, rekeys, key duplicates, and upgrades.
Residential locksmithing services including rekeys, key duplicates, and upgrades.
---
24/7 Complete Mobile Service
Don't get frustrated, your solution is just a call or email away.
Contact us today with any of your needs at (919) 901-3231
Locksmith near Goldsboro NC – 24/7 Mobile Services
In Goldsboro North Carolina, you never know when or where you might need a locksmith. We realize that security can be a sudden and serious concern, and we want our customers and community neighbors to know that, regardless of your needs, All In Locksmith has you covered.
All In Locksmith guarantees prompt and professional service for all of our clients. Our fully stocked and marked vehicle will arrive at your location and will promptly provide identification, so you know you're dealing with security experts. Our professional locksmiths are expertly trained and friendly. Moreover, the team at All In puts friendly and efficient customer care as a TOP concern in all of our daily operations. Click here to get locksmith services in Goldsboro, NC.
Expert Service
Our locksmiths are fully licensed and bonded. Our knowledge, skills and expertise is unmatched in the Goldsboro NC area. Our licensed locksmiths are equipped and ready for every security request you may have, and we'll meet them all in a professional manner. You are able to contact us at any hour of the day for assistance and we will always deliver the best service possible to you. Your business is our business, and we treat your possessions just like our own. We offer services throughout the Goldsboro area and provide service at your location. This includes all areas around Seymour Johnson AFB. Locked out? We CAN help!
Auto Locksmith
All In Locksmith is easily able to meet the auto locksmith services you need for your truck, car, or motorcycle. Car lockouts? No problem. We provide service for most makes and models of vehicle, including key replacement, keyless remotes and more. The security of your vehicle is our number one concern and we can provide all services on-site.
Can a Locksmith Program a Keyfob?
If you've ever found yourself in a situation where you've lost or broken your car key fob, you may be wondering if a locksmith can help. The good news is that a locksmith can program a key fob, and it's often a more cost-effective option than going to a dealership.
Here's what you need to know about getting a new key fob from a locksmith:
Expertise and Equipment
Locksmiths have the expertise and equipment to program key fobs for a wide range of car makes and models. They use specialized software and tools to communicate with your car's onboard computer and program the new key fob to work with your car's security system.
Convenience
In addition to their expertise, locksmiths also offer convenience. They can come to your location, whether it's your home, office, or the side of the road if you're locked out of your car. This saves you time and hassle, and you can have a new key fob programmed in just a matter of minutes.
Cost-Effective
Perhaps the biggest advantage of using a locksmith to program a key fob is the cost. Dealerships often charge significantly more for the same service, and you may have to wait several days for an appointment. With a locksmith, you can have a new key fob programmed quickly and at a much lower cost.
In summary, a locksmith can program a key fob for your car, and it's often a more convenient and cost-effective option than going to a dealership. If you find yourself in need of a new key fob, consider contacting All In Locksmith for assistance.
Home Locksmith & Residential Security
All In Locksmith has the most state-of-the-art technology available for home and residential security. We have a full range of options you can use you to fortify your home, including gates, safes, keyless entry and more.
We can provide service quickly in the Goldsboro NC area the same day you call. Our 24 hour helpline is always available and you'll reach reliable locksmiths. Whether you are traveling through the area or are a resident and need assistance at any time, call us immediately. We'll travel to you and get the job done quickly and efficiently. No request is too small when it comes to your safety.
How Can a Locksmith Improve Your Home Security?
When it comes to keeping your home secure, a locksmith can be an invaluable resource. With their expertise and state-of-the-art technology, they can help you fortify your home and keep your family safe. Here are some ways a locksmith can improve your home security:
High-Tech Security Systems
Locksmiths can install and maintain high-tech security systems that include cameras, alarms, and keyless entry systems. These systems can help deter burglars and provide you with peace of mind knowing your home is secure.
Lock Installation and Repair
A locksmith can install new locks or repair existing ones to ensure they are functioning properly. They can also recommend the best type of locks for your specific needs, such as deadbolts or smart locks.
Emergency Services
Locksmiths are available 24/7 for emergency services, which can be particularly helpful if you are locked out of your home or have experienced a break-in. They can quickly provide you with new locks or keys to ensure your home is secure.
Gates and Safes
Locksmiths can also install and maintain gates and safes to provide an additional layer of security for your home. These can be particularly useful for storing valuable items or securing your property.
In summary, a locksmith can improve your home security in numerous ways, from installing high-tech security systems to repairing and maintaining locks. They can also provide emergency services and install additional security features such as gates and safes. If you're looking to fortify your home and keep your family safe, consider contacting All In Locksmith for your assistance.
Commercial Locksmiths: Keeping Your Business Safe and Secure
As a business owner, you understand the importance of securing your commercial property from theft and vandalism. The best way to do so is to hire a professional commercial locksmith like All In Locksmith. Our team of experts is available 24/7 to provide you with the best commercial locksmith services for any type of commercial lock.
Whether you need a new set of keys for your business, want to upgrade your security system or need to rekey your locks due to employee turnover or a break-in, we've got you covered. Our commercial locksmiths are highly trained and experienced in all aspects of commercial locks and security systems.
At All In Locksmith, we understand the unique needs of businesses and will provide you with the best solutions to secure your property. We use state-of-the-art equipment and techniques to ensure that your business is safe and secure.
Our team is available anytime, day or night, to provide you with prompt and reliable service. We take pride in our work and treat your business with the same care and attention to detail as we do our own.
In conclusion, if you want to keep your business safe and secure, hire a professional commercial locksmith like All In Locksmith. We are the experts in commercial locks and security systems, and we are here to help you with all your commercial locksmith needs.
Trust All In Locksmith
Trust your home, vehicle or business to our professional locksmiths in the Goldsboro area. Trust All In Locksmith. Life is too fast-paced to stop and worry about security all the time. That's why it pays to work with us, one of the foremost security experts in the Wayne County area, for all of your locksmith needs. Whether you need locks changed for a newly purchased home or a new keyless remote for your car, All In Locksmith can meet your demands and deliver beyond your expectations. Call us or contact us today!